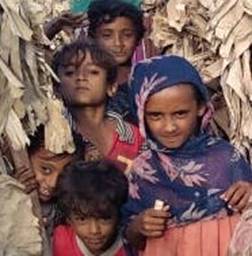 Christmas is coming soon to Romania!!!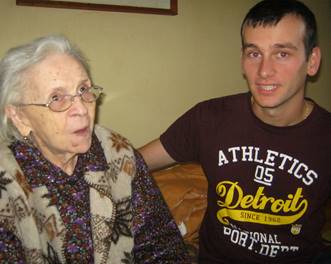 Well not really- but we need to get our Christmas load off by early November. Our Romanian friends: Dr Finna and the nurses who run Medicare, caring for many housebound patients, appreciate the lovely Christmas parcels of food we send for needy patients. Each parcel, so lovingly put together by so many of you, means such a lot to lonely and often desperate people. The list is as usual: instant soups, rice and pasta (they don't take much heating which is important when you have so little money), dried fruit, sugar, and tins of fish or meat, soap and warm gloves/scarf or hat.
Clever Hands (Targu Mures day care centre for disabled)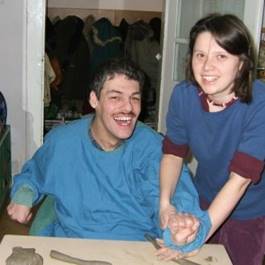 Val and I will be visiting our friends later this month to see how they all are and find out whether there is any way we can help them to become more self sufficient. Once again the government haven't paid the official grant for the sheltered home (the Peter House), so financially things are uncertain. Orsi wrote: "For the moment we are OK but I don't know how long we can manage. Thank you very much for everything, the youngsters are glad for the trainers, also the walking frames are very good. The food went to the Peter Home and for the summer camp." Please pray about the ongoing need for funding over and above what we can provide, and pray for the wonderfully dedicated team.
Yemen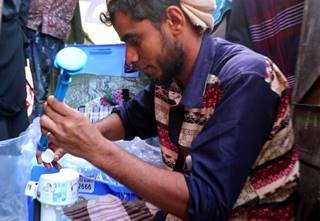 The second container (a 40 foot) of essential aid from JOY is being distributed to some of the many of the millions of needy victims of the 4 !/2 years of war, which has cost so many lives and left so many injured, disabled and homeless. One of the major problems is lack of clean water for millions, resulting in lethal cholera outbreaks, and tragic deaths. So water filters are of prime importance and Aquafilters filter the dirtiest water to produce clean drinking water, as shown here. These filters last for many years. Our contact there wrote: "Cholera is still a problem, so water filters and Aquaboxes would be good additions"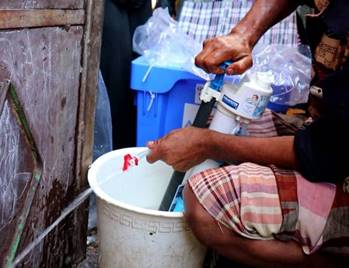 When asked about walking frames and artificial limbs, he added:
We do appreciate the walkers and the work that you are doing with your sister organization to obtain limbs for Yemen. They are very much needed." Medical supplies and equipment are coming in and we are half way to filling a third container, which hopefully can go before Christmas. Please contact us for details: needs include dried baby food, 5 or 10kg sacks of rice, vitamins, dried vegetable soup, dried red beans, soap, towels and blankets. Thank you to all who have so generously given already. As the disaster unfolds and there seems little hope of peace yet, the needs continue, and our contacts in the country are working hard to do all they can to alleviate the suffering of so many. Please pray for a cessation of hostilities, for justice and peace.
Some of the pallets in our warehouse ready to go in a container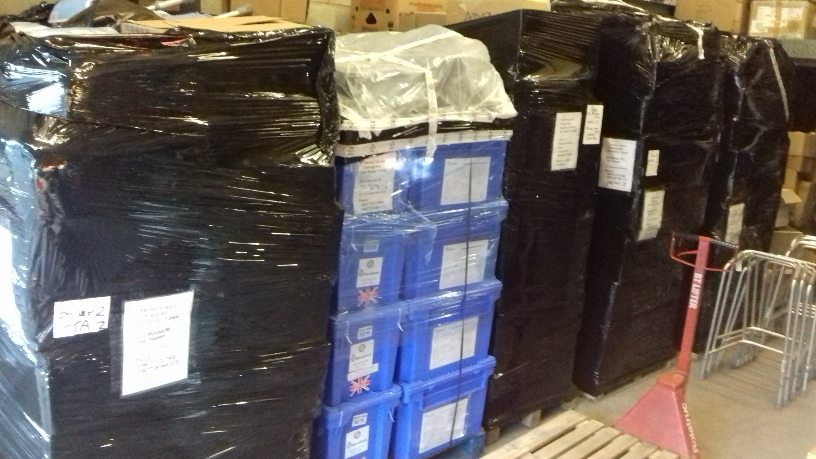 In the middle of our harvest thanksgivings here it is so good to be able to share with people who have so little. This photo shows a pallet of Aquaboxes (blue) containing water filters and household essentials. The black wrapped pallets are mainly medical supplies- all awaiting shipment to the Yemen.
Give thanks:
For our many blessings; that we have more than we need and can share with people who have so little.
For God's grace and guidance over the years, as we approach our 30th anniversary!!! We will be celebrating it in June (13 and 14th) as December/ January may not be good times for people to travel far to join us. Contact us for details if you would like to join us.
Please pray:
For wisdom as we seek to know God's plans for our future.
For health and strength for us and for our colleagues, both in Romania and the Yemen.