Rheumcare
Rehabilitation centre
Rehab centre set up through the vision and work of Dr Iren Nagy to help people with any form of physical disability, with the support of JOY.
---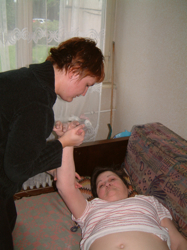 This centre of excellence is run by Marinela Gombos and her wonderful team, they are busy every day except Sundays, from 7 am to 7pm. Last year Rheumcare treated 1,547 patients, of which 360 disabled people, 82 home care patients and 118 needing physiotherapy were treated free of charge. Those who can afford to pay do so on a sliding sale, and this has helped the project to become financially independent. The staff of 20 physiotherapists, nurses, office staff and cleaners are paid by local authority grants, and other grants where available, and patient donations.
It
rehabilitates patients from babies with birth injuries, to old folk with a stroke; and in between has antenatal classes (the first in Romania), back exercise classes, to name a few, plus weight reduction and aerobics for the wealthier who can afford to pay, which helps to cover costs.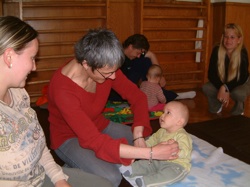 ---
Continual Support needed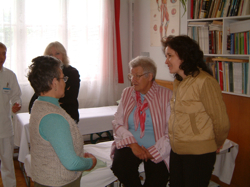 JOY assists where necessary and provides supplies and equipment, but whereas originally we paid the staff and overheads, now that is not needed as they have become almost self sufficient. A wonderful success story; based on the hard work and commitment of the staff.
In 1998 the original old building in Targu Mures, where the Rheumcare rehabilitation physiotherapy started came up for sale. Rather than lose the project, JOY bought, completely renovated and equipped it over the following few years, providing a large physiotherapy hall, chair lift to it fir access and clinics, store rooms, toilets and showers downstairs. In 2008 we were praying for a miracle as the work had outgrown the building and bigger facilities seemed beyond our means.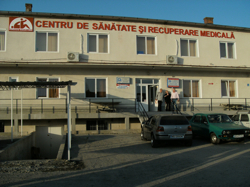 What an amazing God we have – an expanding hotel firm exchanged our old, centre of town building for a new building which was twice as large, on the edge of the town. It's brilliant – and so the work grows.