Elisabet Foundation
Caring for the young!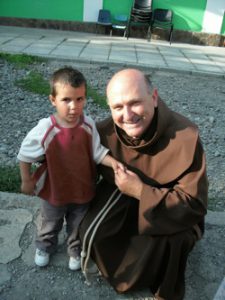 The Elisabet foundation runs five small homes and a little farm for abandoned children. It was set up by a Franciscan Friar, Father Paul, in the little village of Glodeni, in the countryside north of Targu Mures.
It provides a secure and protected environment in which the children can develop to their full potential, spiritually, physically and mentally.
Bought or largely built with funding and supplies from JOY, and now caring for 28 youngsters who were originally in institutions for the handicapped, except for the youngest who was left on their doorstep. Now they are almost all in normal schools, and some are top of their class. Several have gone to university or college and 8 have got jobs.
---
Rescued and cared for
At first the children were withdrawn, hardly spoke, shied away or were aggressive; now they are all boisterous, loving, normal, happy children, and a great joy to be with.
Tea at the little house
The children with their house mum
Most have been abused or had horrific experiences, but with care, kindness, prayers and a loving family home they are blossoming. Their house parents are loving capable people, who are giving their lives to create a home for these youngsters.
---
Four little homes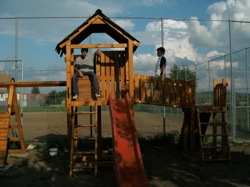 One white, One yellow, one red and one orange – like a story book farm. They form 2 sides of a square, and the field behind has been made into a playground and sports field where the youngsters let off steam. JOY bought a grain mill which has been renovated and is now ready to go into production- which will help them become self sufficient, as they can sell the animal feed.
---
A happy and safe place to grow up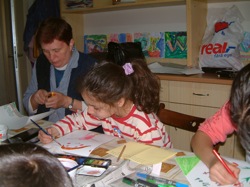 The village is a lovely place for the children to grow up, and they learn about farming life as they help in the fields at weekends and holidays, homework permitting! The older ones from the 2 homes still in the city join them whenever possible and at weekends. The atmosphere is a very happy one, as they help each other, and have a great deal of fun; like one big family.