Christmas Greetings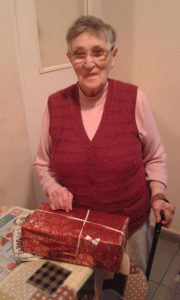 from our friends in Romania for all the beautiful Christmas food parcels. They arrived safely and earlier than expected, just in advance of heavy snow in the mountains en route, to the delight of our colleagues who care for the needy, and love to be able to take a Christmas gift with their Christian greetings when they visit them bringing great joy to some sad and lonely homes. God bless all of you who provided over 250 lovely parcels, making Christmas brighter for so many people living in cold, dark homes. The housebound patients of Medicare (Targu Mures) are transported to church for a Christmas party, and this is often the only time they get out of their homes in the whole year, so it is a very special occasion, with food, singing and the Christmas food parcels.
Medicare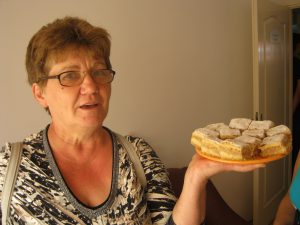 Dr Judit Finna Wrote: "Yesterday the lorry arrived one week before expected, we organized the unloading (Csaba her husband)  and everything is wonderful. Now just this short letter, Yesterday evening was to late to writing. Thanks for all. Really amazing, but you can always do miracles. We preparing the Medicare day in the church for 8 December, it's perfect. God bless you all"
Clever Hands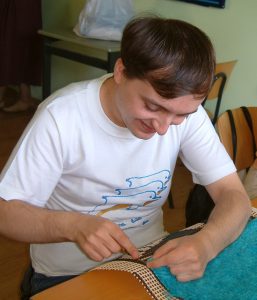 Orsi wrote from the centre for  disabled youngsters: "We received all the goods you sent. Thank you a lot! All are very useful. The food went to Peter home, the craft materials in the daycare centre, we distributed the clothing between the youngsters and they will get the shoeboxes on 20th December, at the end of our Christmas celebration. We kept both wheelchairs, one was given for one of our youngsters, Pityu. He and her sister was very happy for it, since his weelchair was really old and this one is so much better We are busy at the daycare centre, as usuall in December. After a stressful year we received some support from the local maior's office and the county council. Donations are coming from complete strangers and. we have some orders for candles and pottery. So despite the negative legal changes of the year we won't have a negative balance – it was another sign that the Lord keeps us safe in any circumstances."
Rheumcare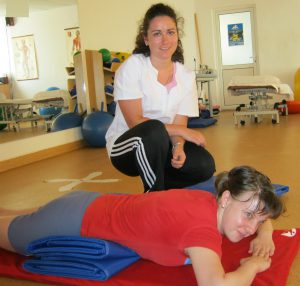 Marinela,,the administrator for the rehabilitation centre which helps over 200 patients a day,wrote: All the things you send are very useful to us so again thanks from the bottle of my heart for your support and the constant care for us and our cause. Unfortunately we also find less and less volunteers so I understand the struggle you have but of course the constant need for care and support for our patients remains the same. Our 25 anniversary is on 19 may 2018  you are more than welcome to join us on this wonderfull day.
And elsewhere!
there is so much need worldwide, and it is always a joy when we are able to help through trusted contacts and sister charities. So we have been able to send a van load of blankets and trainers to Fiji with Physionet for the victims of the cyclone, and to Sierra Leone clothes, trainers and medical supplies for victims of the mudslide disaster there. Sue and Colin went to Tanzania last month taking clothes, games and trainers for the children in the little orphanage near Moshi,. It may be a drop in the ocean- but God can multiply the little we give with His great love, and the blessings outweigh the giving, in the encouragement it provides in difficult situations.
Mildred Garnett
Many of you will remember with great fondness Mildred and her husband Harold  who helped in the JOY warehouse for many years. Since Harold's death, Mildred has remained a constant and loyal supporter of JOY, always full of encouragement, and a stalwart and very precious prayer partner. She died on 15.11.17, and we miss her lovely smile and give thanks for her great friendship, and her shining faith. We send our condolences to her family and friends, knowing that she has gone to be with our Lord.
Give thanks:
For the generosity of so many of our supporters and the hard work and dedication of

 our volunteers.

For all the wonderful work our colleagues in Romania manage in spite of problems 

and restrictions by the authorities.

For God's great mercy and provision through the year, and His unfailing love.
Please Pray:
for recognition of the work done by our Romanian friends and adequate government 

funding and local support.

God's guidance for the way forward in the coming year, that we continue to share His love with those we are privileged to serve.