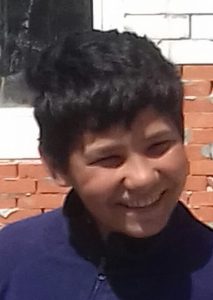 Loading the container for the Yemen at the JOY warehouse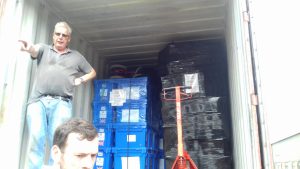 The container of humanitarian aid for the desperate people of Yemen has arrived at the port, and is being delayed for bureaucratic reasons which are taking time to sort out. How tragic when 78.5%, of the people including 11 million children desperately need aid.
Please pray for a miracle of compassion and common sense to prevail, so that all the wonderful water filters, medical supplies and food can reach those who need it as soon as possible.
Medicare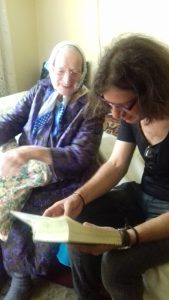 Congratulations as they were awarded 4th place in the whole Carpathian area as Medical Practice of the Year. How lovely that their committed care and compassion are recognised. Here Nurse Janos visits a housebound lady in her 90s, who doesn't sleep much, but reads her bible and provides a "24 hour emergency prayer service", and while we were there the phone rang twice with requests!! Although quite alone she radiated joy in her deep faith, and her love for her "dear Janos". The friendship and care that Judit Finna and her nurses show for their patients is very special and a strong part of their ministry. We are privileged  to be part of all this by sending funds and supplies.
Our Harvest and Christmas appeal!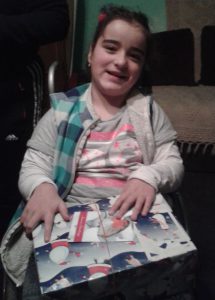 Food is still very welcome for the sheltered home for disabled youngsters, for the little homes for abandoned children, and as food parcels as a very welcome Christmas present for lonely and poor old people. For some of them, this is the only Christmas parcel they receive, and they look forward to it each year. As usual the lists can be obtained on our website or from the office. We require dried foods only: i.e. (rice, spaghetti, fruit, sugar, milk powder/milk drinks, instant noodles) or tins of fish or meat only. The beautifully wrapped shoe boxes of food are treasured after the food has gone, and it is a lovely way of showing someone cared. Thank you to all of you who  provide these messages of God's love to needy people.
Asylum Seekers
For some time JOY have been helping with household items for people who have come to this area from dreadful situations in their home country, where often their very lives are at risk. They leave everything if it has not already been destroyed and often have nothing, and are often placed in empty flats.
We are able to give bedding, pots and pans etc and some furniture through Paola at BIASAN. She kindly wrote "through the amazing work you do, you manage to keep a humanity, a passion, a rage for justice, a flame of hope that is inspiring. Through all this you think about our project and helped us immensely"  So thank you all those who provide blankets etc- they don't just go to Romania, or the Yemen, or Moldovia where we sent a lot of knitwear with Physionet, or Malawi where Jason takes some of these lovely things, but help needy asylum seekers to keep warm here in Yorkshire. God bless you all
Clever Hands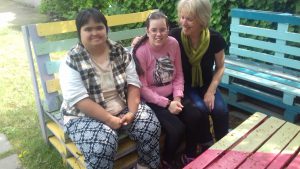 As a charity we are very keen on recycling, so I thought you would enjoy the photo of the garden furniture that the staff and youngsters of the centre for Disabled youngsters make out of the pallets we send their goods and supplies on. As you can see they are very proud of them. Orsi and the whole team make every effort to be as self-sufficient as possible, and with all the crafts the youngsters make and sell, and the work they do for the pharmaceutical company, making pill boxes, they raise well over a third of their running costs.
Give thanks:
For the continuing flood of supplies by which we are able to help so many in need.
For God's mercy and grace which we need so much, and the amazing miracles He sends when we are unable to go any further.
For our dedicated volunteers, helping in the two JOY charity shops (Shipley and Bingley)  those who help in the warehouse and those who are a loving support.
Please pray:
For the container for the Yemen- that the authorities there would expedite the unloading and delivery of all the emergency aid we sent to those who need it most.
For the future book keeping of JOY after Sue retires, still a question mark!!
For the projects in Romania as they continue to have problems with bureaucracy and restrictions, that the authorities would support them instead, in the necessary work they do with the poor and disadvantaged.