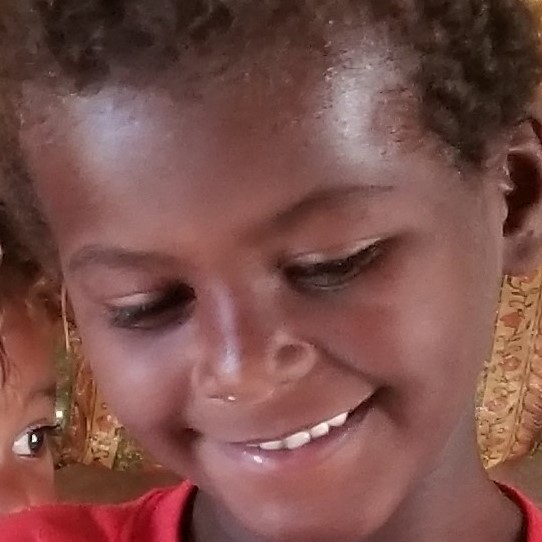 Yemen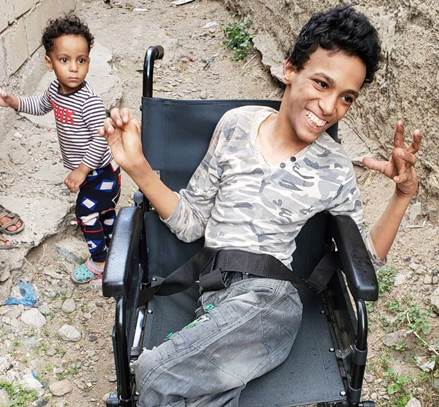 The recent and 5th aid container has been cleared, after additional paperwork was demanded, and the contents will be distributed as soon as possible. So much need for so many people must pose serious difficulties as to who should receive help. The joy of getting a wheelchair can be seen in this young disabled lad's face. It means a whole new world of being taken outside.
To be able to provide something like this is a great privilege; thank you to all of you who donate supplies, equipment or money. We are now collecting goods for a 6th 40 foot container, booked to leave at the end of August. If you are able to help with dried food (5 kg bags of rice or pasta etc), medical supplies (bandages etc, all in date) or equipment (wheelchairs, artificial limbs etc) and knitted blankets, please contact me on 07751303210 or at the office for details.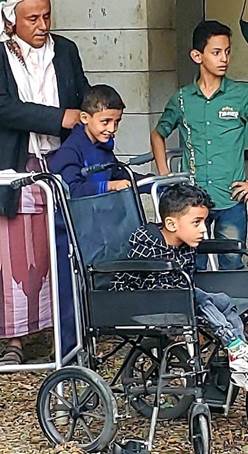 We are so grateful to Simon of Freight Agency for all, his help and advice to Aquabox and Wateraid for their invaluable donations of many hundreds of shelter boxes with water filters and humanitarian aid, and for so many of you for your support and donations, and for delivering them here to the warehouse. God bless you all
Romania: Targu Mures
Medicare (home care nursing)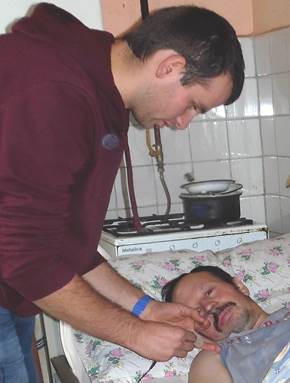 Dr Finna writes :" I didn't write what is the minimum to keep ourselves on the surface. We have decided instead to reduce everyone's salary and keep our good staff as long as possible. For the moment we are working on unpaid leave, volunteering and trying to get support. The money (from JOY) came, thank you very much. The only good thing in the last weeks has been your email. My mother has broken her pelvis, she will no longer be self-sufficient. Working 10 hours a day it is impossible for me to be with her tired and sad. We will not give up, we try, even if often without success, to maintain our work- which is so very much needed. Thank you for being with us. God bless and keep you all
Clever Hands day care centre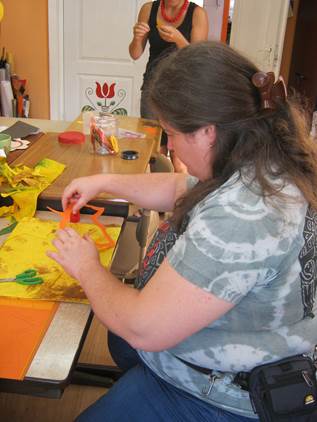 Orsi emailed : "Two weeks ago was the first time since the pandemic began that all our youngsters started to come to the day centre. We try outdoor activities as the centre is very, very hot- we don't have air conditioning. Everyone is looking forward to any kind of activity- the isolation was too long. We try to help the parents with a parents club through games, counselling, drama etc, also a lot of fun too."
Goodbyes and welcomes:
We have said goodbye to some very good friends who have served JOY faithfully for many years. Colin Judd who helped with all the packing and sorting in the warehouse. Malcolm Atkinson who has been a trustee many years,. Alan Crossland who was also a trustee, and with his wife Jenny helped sort and pack in the warehouse, having for many years been working members on annual trips in projects in Romania. Last but by no means least: Sue Crawshaw who came to help in the office to "do the books" 30 years ago and has been a constant help and friend ever since. She and and her husband Colin were also regular members of working teams in Romania for many projects. You will all be sorely missed, and thank you for such wonderful friendship and invaluable help. The fun we have shared, the hard work in trips abroad, the feeling of achievement with jobs done, and the wonderful friends we have made over the years are all good memories.
We are very blessed to welcome two new trustees: Richard Henshaw, who brings medical knowledge and missionary experience to help us, and Martin Brown whose business expertise is a boon, and Tommy Pouncey with his training in accountancy who has agreed to take over our books for us.
So JOY looks forward with the help of all our volunteers in the two charity shops, who raise the majority of the funds we need to carry on the work.
Give Thanks
That the 5th JOY container for Yemen has passed successfully through customs with the help of Simon Thornton (Freight Agency).
For the easing of covid in Romania so that the Clever Hands Day Centre is once more open to help the disabled young people it serves,
For health and safety of all or colleagues in Romania, and their sterling work throughout the pandemic..
Please Pray:
For supplies for the next 40 foot container for Yemen, especially for medical supplies
For all who have lost loved ones that God will comfort them.