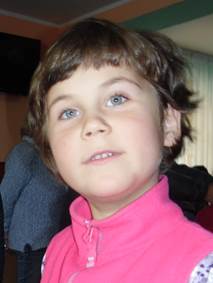 Yemen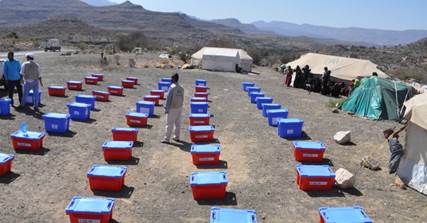 Here are some of the wonderful boxes containing water filters and humanitarian aid, about to be shared out from the 5th JOY container, to some of the many displaced families. The 6th 40 foot container has arrived safely.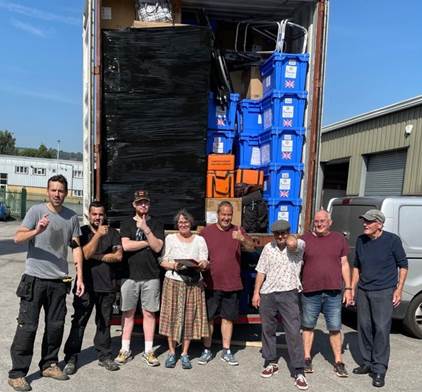 Thank you to all who donated goods and funds to enable us to fill it with water filters, wheelchairs, sacks of rice, boxes of dried vegetable soup, blankets, trainers and wonderful medical supplies and equipment including much needed PPE masks and gowns, a centrifuge, cardiac monitors and much much more. Here you can see the weary  team , having successfully filled yet another such massive container. It seems a miracle each time!! God bless you all for your support in enabling this to happen. It means so much to so many desperate people. Jaime wrote "We have received the latest container from JOY and are thankful for the donations. Currently, we are still going through customs"  Please pray for a speedy process through customs without any problems.
Romania… Targu Mures
Clever hands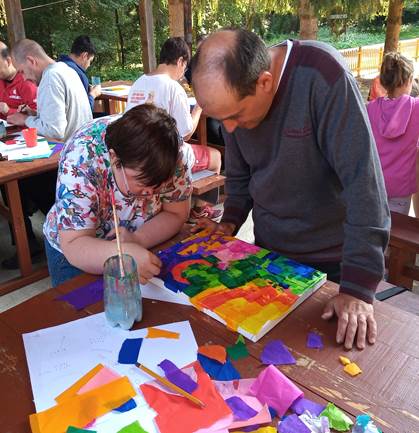 The Day Care centre has had a busy time with 4 new members, and have had fun at a couple of holiday camps; as the photo shows. Orsi writes "We could take more if we had space. The cntre is very lively and the weather beautiful so we are outdoors a lot. We received your funds; thank you very much for it. Although our budget looked really bad in January, God blessed us richly. Thanks for your part in this.'
Medicare (home care)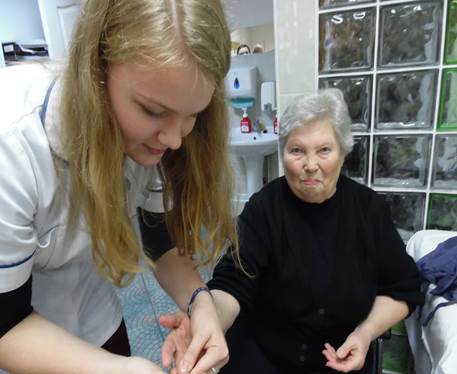 Dr Finna writes "In the Covid fight. The trouble is big again and we thought after last year that it couldn't get worse: but yes, it got worse.The  4th wave is here. In my practice, I currently try to treat more than 60 Covid patients in their homes (hospitals have long been overloaded, there is no oxygen. On the street the fear and anxiety for our elderly and young is starting again.. Even more trouble was that all three of us got sick: Csaba, Aaron and I, Csaba and Aaron after 3, me after 2 vaccinations. I couldn't find a deputy, so I mostly treat online, luckily the assistants still keep themselves, (the Medicare nurses) although Hunor was also sick for 2 weeks Somehow we always push our limits, but I feel like we will succeed. We did everything, I have settled into that. Somehow we managed to solve difficult situations so far. We need you, we think a lot about you and we pray for you too. We always think of you with gratitude
It is good that you are for us that we could not write, so you are l in our thoughts every day. God bless and keep you all, love & prayers from us.
Please Pray
For our friends and colleagues in Romania and Yemen, struggling to cope with overwhelming problems of massive waves of covid. For health and strength
For all who in Yemen and other war torn countries, have lost their homes and friends and family, their mean of livelihood and often are sick or injured.
Give thanks
That the 6th JOY container for Yemen has arrived successfully, pray for God's blessing on the team distributing everything.
For our colleagues doing such fantastic work despite all the difficulties
God Bless you all this Christmas